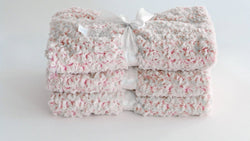 cyndylovedesigns
Baby Girl Pink Blanket Bedding Rosebud Print
Our Minky Blanket has a double layer designer Minky Front and Back. Our minky blankets are handmade in the USA and measure approximately 29" x 36". The Blankets are a great size for both infants, toddlers and young children and sure to become your childs favorite blanket. Our blankets are professionally industrially stitched on the inside and top-stitched on the outside to insure durability. All of our Minky blankets are 100 % Polyester and machine washable. Each blanket comes beautifully tied with a coordinating ribbon. Ribbon selection will vary.
Gorgeous!
This is one of my favorite gifts to give! I have purchased this blanket in several colors and sizes! It is amazing, and I have never seen anything from anyone else like this before. I just love them!
Beautiful Pink Rosebud Blanket
I recently bought 2 pink baby blankets for new moms. Cyndy's blankets are my go-to shower gift now because they are so soft and well made! Two of my kids have their own and my 9 year old daughter still sleeps with hers, so it has held up amazingly well over the years. These are worth every penny!
Best baby blanket ever!
Best baby blanket ever! This is the softest, most beautiful, most original blanket I've ever seen. I have actually purchased it several times for gifts. It comes in different colors which is wonderful. I also purchased it in an adult size when my mother-in-law was in hospice. She loved it because of the softness. I have ordered many things, and I have always been thrilled. I have ordered many things, and I have always been thrilled.Cyndy Love is absolutely amazing! amazing!
Beautiful Blanket
Beautiful blanket and it arrived quickly!
Perfect!
This is perfect, came quickly, and will be such a great baby blanket for our soon to arrive Tatiana Rose! 💗