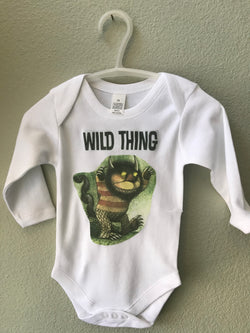 cyndylovedesigns
Bodysuit Wild Thing, TShirt, Baby Boy, Baby Girl
100 percent cotton One Piece Snapsuit or Bodysuit for a new baby boy or girl.  I only use very high quality, thick cotton bodysuits. No cheap, flimsy, thin bodysuits here!
The matching "Wild Thing" crown/hat is also sold in a separate listing.
"Bodysuits" are only available up to size 18 months.
After size 18 months, a short sleeved TShirt will be used to make this item for you.
Size Chart for Bodysuits:
0-3 months 10 pounds 19-22" Height
3-6 months 14 pounds 22-25" Height
6-12 months 18 pounds 25-28" Height
12-18 months 23 pounds 28-31" Height
18-24 months 27 pounds 31-34" Height
24-36 months 31 pounds 34-36" Height