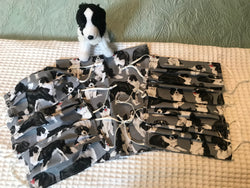 Cyndy Love Designs
Face Mask Border Collie Facemasks Protective - 100% Prime Cotton - Not Medical/Surgical Grade
These face masks are made from my designer collection of 100 percent cotton Border Collie print fabric. 3 layers of durable cotton with 2 pleats to conform to the face. These are not surgical/medical grade masks.
Hand made. Adjustable, soft elastic on both sides to fit over each ear. One size fits most adults. Machine washable.  Reusable.  

Protect yourself this cold season, allergy season, or any season.

Measurements are one size, 8 1/2 by 4 1/4 inches. Children's sizes are also available in a separate listing. 

It is recommended that your mask be machine washed daily.  

No returns due to the personal nature of the product.
My current shipping time for this product is 1-3 days.
Excellent Products, Quick Shipping, and a Great Way to Support Local Business!
I've known about Cyndy's design business for a while and always intended to order to check them out. I finally got a chance and found a some excellent offerings. Sadly, I had to limit myself, this time around.
I ordered one of the Border Collie masks and the "Faux Fur Leopard Beige Jacket Poncho Cape Fleece" for my wife, based on the descriptions on the site.
The products arrived very quickly, they were expertly packaged, and they were every bit as described, and then some!
I'll probably be looking at some of the denim jackets, one for me, and one for my new step-son. They look great. The challenge is picking a favorite!
I highly recommend Cyndy's shop, and wish her continued success.