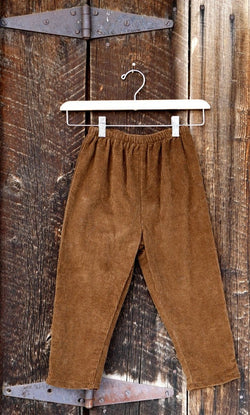 cyndylovedesigns
Pant Corduroy Brown with Elastic Waist
This pair of boys pants is made of a special waffle print corduroy fabric. In a rust/brown color, that hides a lot of dirt, the fabric is heavy duty 100% cotton for the rough and tumble little boy. They have an elastic waist for comfort and a little growing room.
This fabric is no longer being manufactured and I managed to snag the very last yardage that they had in stock. So, when it's gone, it's gone. Get it while it lasts as you are sure to love the high quality of this corduroy. And your "little man" will look adorable in them. These pants are generously sized so that they fit according to the age of the child.

Specify your size: 6-12 months,size 1, size 2, size 3, size 4, size 5 and size 6.