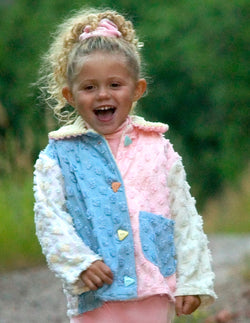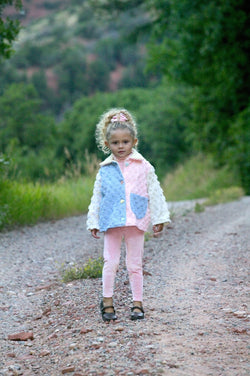 cyndylovedesigns
Jacket, Pink Chenille Summer Cotton Girls Coat
Little girls cotton chenille jacket in multiple colors and textures. A jacket of many colors! This adorable jacket is hand made by me using many different colors and prints of new chenille fabric.(A fabric just like the bedspread you used to have as a kid) Made from 100% very high quality cotton fabric. I piece together each jacket individually so that rarely do any two jackets ever look the same. If you have a specific request for the placement of colors, please contact me. The buttons will be multi-colored but the sizes and colors will vary depending on what I have in stock. I am able to make this jacket in sizes 6 month to a 10 year old. Remember, my jackets are sized generously and usually match the age of the child. This is one that you will definitely want to pass down to a favorite member of your family.
Please specify size when ordering:


Adorable
Just adorable - love it! Thank yoou Cyndy!!!