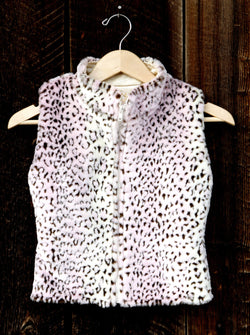 cyndylovedesigns
Vest Faux Fur Leopard Pink and Brown Leopard Print, Kids
Girls Deluxe Faux Fur Vest Pink and Brown Leopard Print Made from the finest faux fur available,and carefully handcrafted by the designer, this super soft vest will delight any little girl to dress up in. Or, to just be the best dressed girl at school. The colors are a pale pink, brown and cream.
Fully lined with white bridal weight satin, this vest will last and last and can easily be passed on to your next child, best friend or cousin. Complete the outfit with the matching hat (in a separate listing) for a great, fashionable look.
Available in sizes: 6-12 month, 1, 2, 3, 4, 5, 6, 8, 10, 12 and 14.