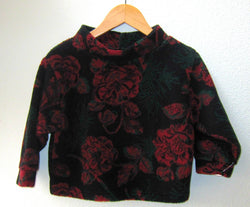 cyndylovedesigns
Jacket Fleece Pullover Sweater Red Floral Girls
This is a soft and comfy pullover with a generous neckline that makes it easier to slip over your little ones head.
It is made from the highest quality of a very soft and plush type of polyester fleece. Machine washable and does not shrink.
This fabric is made to last and you will be able to pass this one down to a sibling, friend or relative.
I only have a few sizes left in this pullover and the fabric/print is no longer being manufactured.
I am offering it at a special price to my customers.
This normally retails at $45.00 but I am pricing it at only $24.99.
Love this fleece!
My daughter grew up wearing these fabulous fleeces & outfits by Cyndy Love and now I am buying them for my granddaughter!