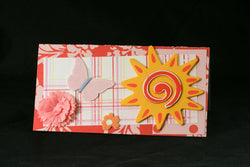 cyndylovedesigns
Checkbook Cover Clear Vinyl Sun Butterfly
Let the sun shine in! And, all things butterflies and flowers.
The bright orange and yellow sun is actually made of wood. The flower is paper and the butterflies are fabric.
Each Checkbook Cover that I make is it's own unique work of art.
This Checkbook Cover is made with high quality 12 gauge vinyl.
I use thick beautifully printed and decorative 110# card stock which is decorated, layered and then inserted into the vinyl cover for style and creativity.
No two covers are made alike.
When the cashier asks where did you get such a cool Checkbook Cover, say
"it's from Aspen and made by Cyndy Love".
MEASUREMENTS
Open 6 3/8 " by 6 3/4"
Folded 3 3/8" by 6 3/8"
This Checkbook Cover is made for top tear checks and has a flap that will accommodate duplicate or singe check books.
If you don't use a checkbook, this case also works great as a coupon holder and a receipt holder.