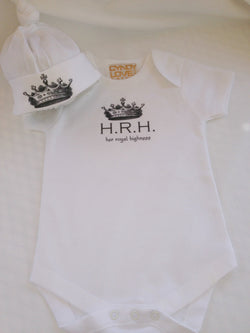 cyndylovedesigns
Baby Girl Bodysuit, TShirt for HRH "Her Royal Highness"
100 percent cotton One Piece Snapsuit or Bodysuit for a new baby girl. (The hat is NOT included with this listing, but is sold separately) With the Royal Birth at hand any day now, what better gift for the "Royal Princess" in your life too! Designed with actual vintage crown graphics from an era oh so long ago, and carefully chosen design of the text for "H.R.H." Her Royal Highness, these bodysuit are fitting for any new baby; royal, or not. I only use very high quality, thick cotton bodysuits. No cheap, flimsy, thin bodysuits here!
Not intending to leave baby boys out, "His Royal Highness" is also available in a separate listing. The matching knot hat is also sold in a separate listing.
"Bodysuits" are only available up to size 18 months.
After size 18 months, a short sleeved TShirt will be used to make this item for you.
Size Chart for Bodysuits:
0-3 months 10 pounds 19-22" Height
3-6 months 14 pounds 22-25" Height
6-12 months 18 pounds 25-28" Height
12-18 months 23 pounds 28-31" Height
18-24 months 27 pounds 31-34" Height
24-36 months 31 pounds 34-36" Height
So cute!
This item is so cute and the shipping was very quick
So pretty
So pretty, understated and feminine