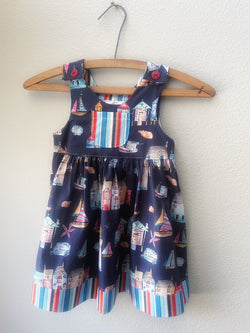 cyndylovedesigns
Dress, Navy Blue Beach Dress, Cotton, Summer Girls Dress
Little girls sundress made of 100% cotton in a navy blue seaside beach print that reminds me of Nantucket/Cape Cod.   Featuring lighthouses, beach houses, seashells, sailboats and fishing boats on a navy background.
The sundress skirt border, pocket and bodice lining are made from a coordinating brightly colored striped print. 2 red buttons fasten at the dress shoulder.
Perfect for your summer vacation. the beach or for going back to school in style. The sizing is generous in this sundress and the size usually correlates to the age of an average sized child. Made from extremely high quality cotton this dress will last and last through repeated washings.

Please specify size when ordering. Sizes available in 6 month to 7 years.