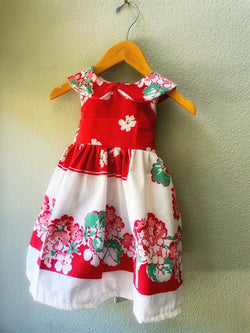 cyndylovedesigns
Dress, Red Dogwood Vintage Tablecloth Dress, Size 2, Antique Fabric, Girls Cotton
This is a very special little girls dress, in a Size 2 which will fit an average 2-3 year old child. It is a one of a kind dress made from a vintage
1930's-1940's cotton tablecloth. The fabric is a beautiful durable 100% cotton fabric with a red and pink floral dogwood print.
I have lovingly transformed this fabric into this unique dress.
Made in a classic style with hand pleated empire waist, a Peter Pan collar and a large bow tie in the back. Two white buttons
closure are also included in the back of the dress.

Measurements:
Back of collar to hem of dress: 17.5"
Armpit to Armpit: 12.75"
Shoulder to Shoulder: 8.25"