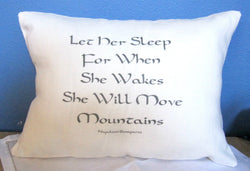 cyndylovedesigns
Pillow Linen Let Her Sleep for When She Wakes She Will Move Mountains
This is the perfect gift for a girl. A newborn baby girl, a toddler girl, a high school graduating girl, a going off to college girl, or just any girl. I love the inspiring quotation by Napoleon Bonaparte: "Let Her Sleep for When She Wakes, She Will Move Mountains". It is a very empowering statement to give to any girl or woman.
I find that it is a great newborn baby gift, a birthday gift, or a graduation gift.
In fact, I just made one and gave it to my son's girlfriend who just graduated from High School and is off to Harvard this year!