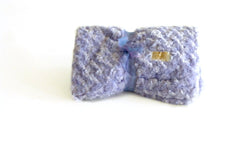 cyndylovedesigns
Luxurious Baby Blanket Lavender Rose Print
Our Minky Blanket has a double layer designer Minky Front and Back. Our minky blankets are handmade in the USA and measure approximately 29" x 36". The Blankets are a great size for both infants, toddlers and young children and sure to become your childs favorite blanket. Our blankets are professionally industrially stitched on the inside and top-stitched on the outside to insure durability. All of our Minky blankets are 100 % Polyester and machine washable. Each blanket comes beautifully tied with a coordinating ribbon. Ribbon selection will vary.
love this blanket!
I love this blanket! I bought it for my future grand daughter coming next month. We had already purchased a pink one two years ago for her sister and it is still in great condition.
Love it!!
This is beautiful! Love it!!!