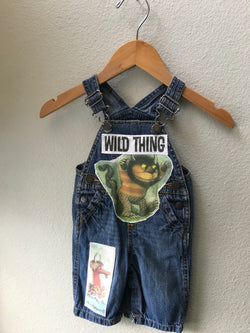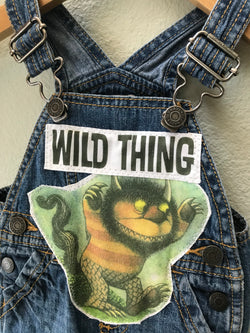 Cyndy Love Designs
Overalls, Wild Thing Denim Overalls, Boy, Girl, Where the Wild Things Are
Inspired by the great children's book "Where the Wild Things Are" I designed these fun and playful children's overalls for all kids, boy or girl.  Whomever is the "Wild Thing" in your life.   Available in sizes NB - 4 years old.  I've made all of the appliques myself and sewed them on to the overalls.   Completely machine washable.
Love these overalls!
I bought my son a pair of these in 2019 at the Aspen fair. He always got so many compliments about how cute they were! I was sad when he grew out of them. However I was so lucky to stumble upon them again at the Aspen fair in 2022 and I bought him a second pair!! Yay!
Favorite Baby Shower Gift!
This is my very favorite baby gift to give to new parents. I like to give them a gift that their child will grow into later, to have something special after all the tiny clothes have been packed away. These overalls are great for either gender, and are so unique—everyone LOVES them. Paired with a classic copy of the beloved Where the Wild Things Are book, it is the perfect gift!